Spinnaker Box Bag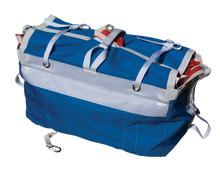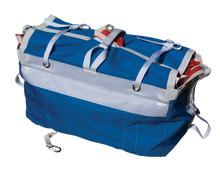 Spinnaker Box Bag
Ideal to store your spinnaker on deck or below
A must for racing sailors
Easy on-deck set-ups and sets
Made from the high quality cloth with mesh base
A full range of sizes available
Highly competitive price
Below find further information on -
Construction Specification
Ordering the Correct Size
About Spinnaker Box Bags
Additional Products
Construction Specification
Our Spinnaker Box Bags are constructed from light-weight heavy duty material with easy drain mesh bases. Their key features include:
· three corner Velcro locking strips
· Velcro quick release opening
· double inbuilt compacting straps for easier storage
Selecting the Size for Your New Spinnaker Box Bag
We supply a range of 6 different size Spinnaker Box Bags to meet the requirements for all size spinnakers. Just select from one of the sizes below according to your boat's length. Where you are using a Box Bag to stow both a spinnaker and sock then we recommend that you go one size up.
· Small - (suit 20-25ft boat or 30-60sqm sail) - 36cm H x 56cm L x 38cm W
· Medium - (suits 25-30ft boat or 50-90sqm sail) - 40cm H x 66cm L x 46cm W
· Large - (suits 30-38ft boat or 80-110sqm sail) - 46cm H x 86cm L x 51cm W
· X Large - (suits 38-44ft boat or 100-140sqm sail) - 53cm H x 99cm L x 53cm W
· XX Large - (suits 44-50ft boat or 130-170sqm sail) - 61cm H x 109cm L x 55cm W
· XXX Large - 160-200sqm - 66cm H x 122cm L x 61cm W (suits 50-65ft boat)
Delivery and Warrantee
Once your order is received then you should have your bag within 72hrs depending on your location.
Naturally, all of our Spinnaker Box Bags come with FULL Warrantee on workmanship.
About Spinnaker Box Bags
Spinnaker Box Bags are used for the compact storage of both Symmetrical and Asymmetrical Spinnakers. While they are a must for racing crews, allowing for easy on-deck spinnaker set-ups and fast spinnaker sets, they also provide for compact sail storage for the cruising sailor even when the sail is carried in a Spinnaker Sock.
Complementary Products
We carry a full range of products to complement your new Spinnaker Box Bag including:
· RTS Standard Symmetrical and Asymmetrical Spinnakers
Feel free to also contact us with any questions or requirements you may have.